I will not eat them Sam I am!
This weekend my girls and I had the pleasure of attending a very cute Dr. Suess inspired 3rd birthday party.
When Ava's mommy (my good friend) Jessica was looking for party venues, Miss. Ava decided where to have her party all on her own. During a trip to their favorite book store, Ava declared that The Reading Bug was where she wanted to have her party. Mom agreed and lucky for her, the venue took care of many of the details! They choose a Dr. Suess theme and went from there.
Ava's daddy had a friend at work whose wife makes cakes, didn't she do a great job?! Of course there had to be Green Eggs & Ham! What Dr. Suess Party would be complete without them? My sister and mom made the Green Eggs & Ham by simply adding food coloring to the yokes and using a pastry bag to fill in the eggs. My mom put an egg plate in the center of a large platter to keep the eggs in place, then they rolled up slices of ham and secured them with colorful toothpicks, arranged the ham around the  eggs and done! Quick, easy, and the kids loved them!
The kids made Lorax hats and played freeze dance. They also got treated to a very animated reading of the Cat in the Hat by a staff member.
They also played a very cute game that was geared toward 3-4 year olds. They got a basket on the floor, placed small pillows on the floor and spread pom poms all over the floor in front of the basket. The kids got into two lines and were each given a broom. They were told that "Cat" must have made a big mess and that the kids needed to hurry and clean up Cat's mess before "mother" got home! The first  child from each line used the broom to sweep a pom poms into the basket, then they ran to hand off the broom to the next child. THey loved this game and it was cute to watch.
The venue did a great job decorating.
The cake was a hit! Ava had a great time at her 3rd birthday!
Each child was lucky enough to get a book as a favor, The Reading Bug even provides the favor, Cat in the Hat themed of course! I just love the favor stand!
Happy Birthday Ava!
Those that know me best, know that I love a theme! Of any kind! I already have some Dr. Seuss items in my shop, Party Hardy Designs on Etsy, but felt the need to add one more.
Here it is! Check it our for your next Dr. Suess bash, it can easily be edited for a baby shower or a birthday party!
Find the invitations HERE.
I also have these items available too!
Graduation Invitation FIND IT HERE
Favor Tags, use a round or scalloped punch or just cut out the squares!
Find it HERE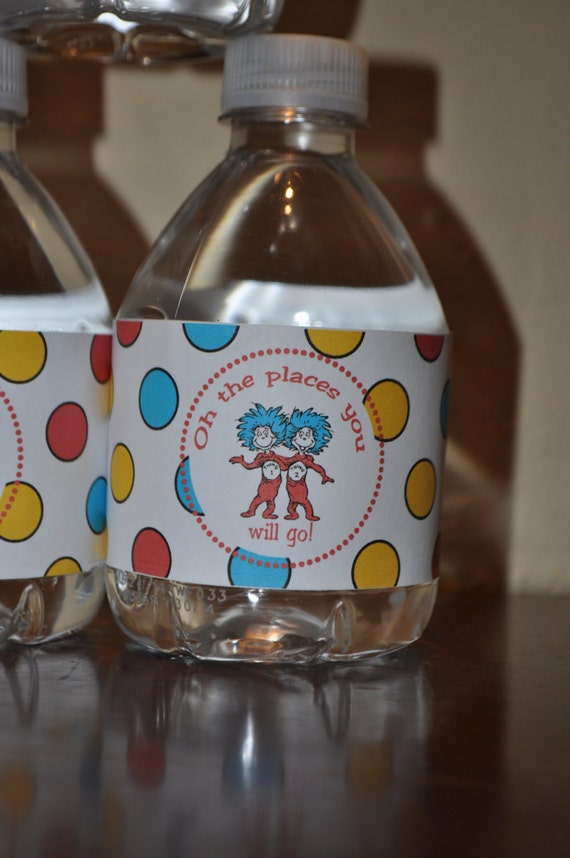 Water Bottle Labels, Find them HERE!
Party on!